PR-CV 91
Chelva – Pico del Remedio – Rambla de Alcotas – Chelva
Short route 91, marked in white and yellow, takes us from Chelva to one of the highest peaks in the area, the Pico del Remedio (1,054 meters), crossing one of the densest forests in the region, the Rambla de Alcotas, of great geological importance.
Duration

7 hours

Difficulty

Medium

Connexion

Variant PR V-91, PR V-92 y GR-7

Suggestion

No recomendable realizarlo con tiempo inestable.
1
Chelva and the Gipsy Fountain
Leaving the Main Plaza, we head towards the local Ahillas road and begin to climb the path that will take us to the Gipsy fountain, a legendary fountain from which twenty water spouts flow.
2
Sanctuary and Remedio Summit
After passing the Fire Station and taking the route of the old Remedio road, we will arrive at a beautiful rest area and the medieval sanctuary, the throne of the image of the patron saint of the municipality, which today has a recreational complex in its setting. From here we can ascend the road to the Cruz del Remedio, a panoramic point from which we can admire the entire valley of Chelva and the surrounding mountains.
From the parking area we take the road back to the summit and from here, following the path, we find the road to Ahillas, although a few meters away we leave it and begin to descend in a wonderful walk through pine forests via the Rambla de Alcotas, along a stretch marked by the GR-7 signs.
4
Lapicero Fountain, la Torrecilla, and Chelva
At the Lapicero fountain we will regain strength and continue along the path, now between crops, which leads us again to the Ahillas road, bordering the Iberian tower of La Torrecilla, entering Chelva by the same road.
Map PRV - 91 "El Remedio - R. Alcotas"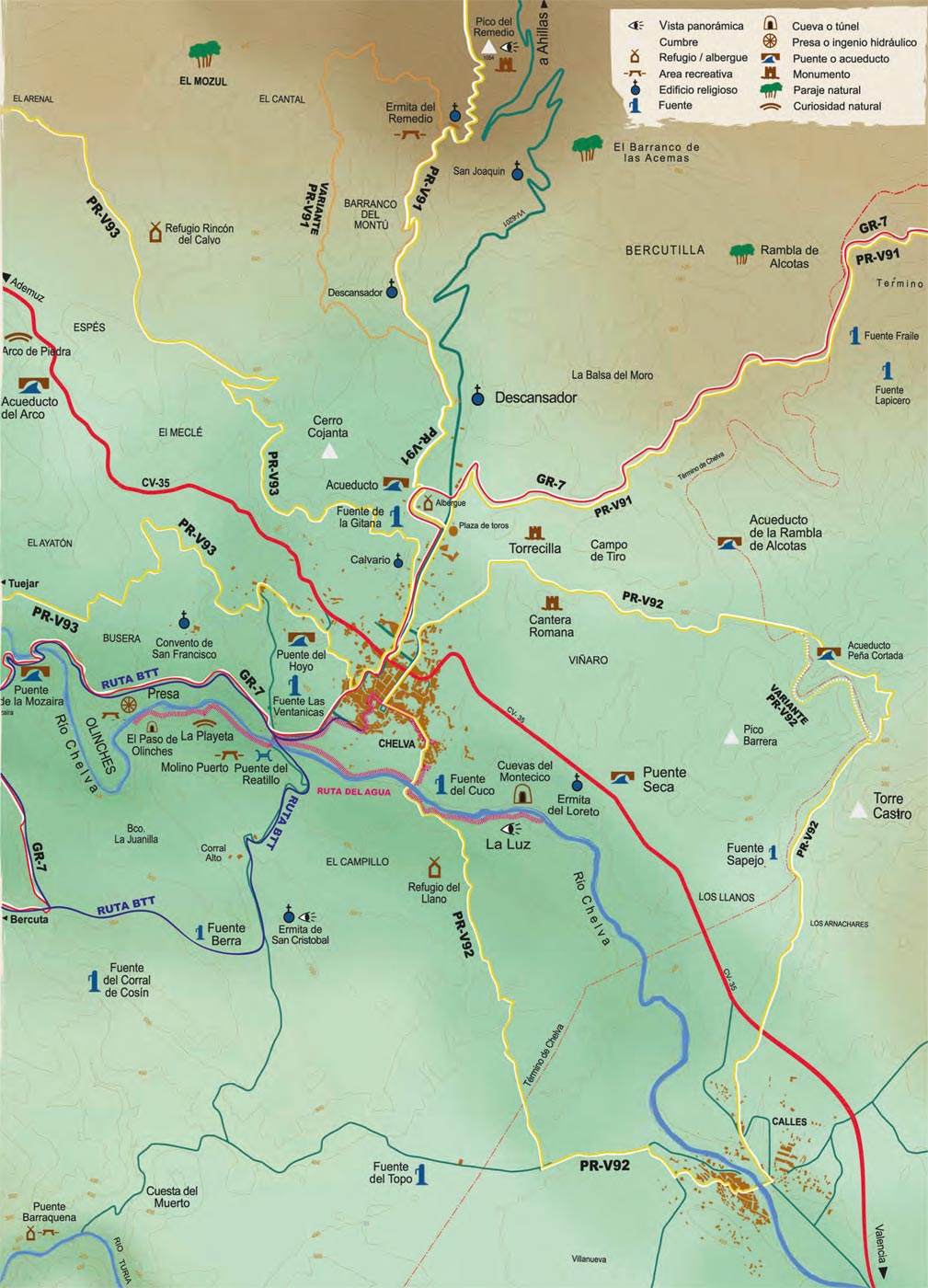 ---
Code QR Track PRV - 91 "Remedio - R. Alcotas
".
Or click 
here